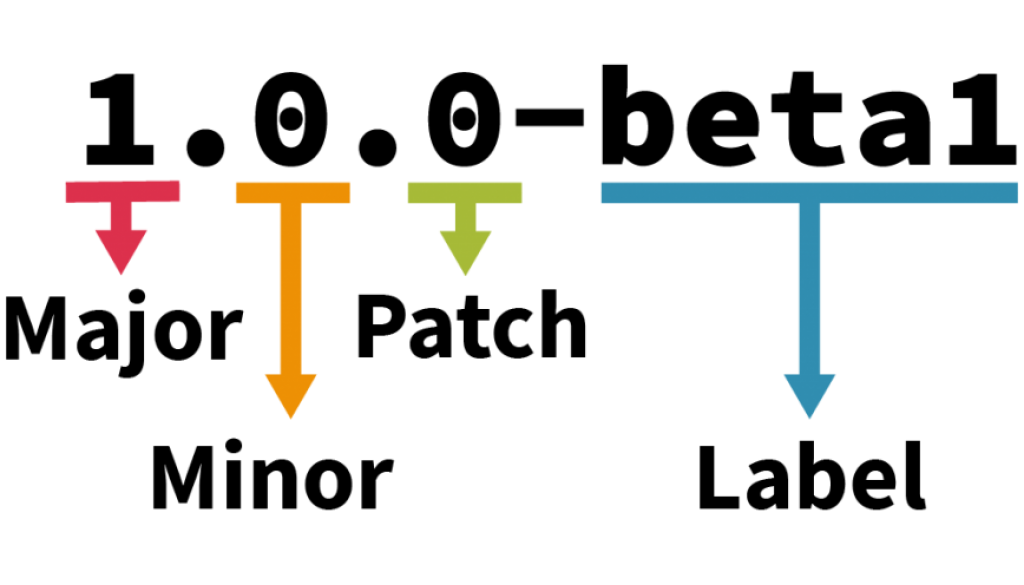 Version numbers 
Di OnlineStore ID, kami sangat bangga dalam mengembangkan dan menguji platform pembuatan website toko online agar berfungsi dengan baik dengan sering menguji fitur baru di dalamnya. Kami juga mencoba dengan cepat memperbaiki bug/masalah ketika salah satu pembaruan kami menyebabkan "regresi": sesuatu yang dulu berfungsi tetapi sekarang tidak.
Frequent updates
Kebijakan pembaruan kami yang agresif bagi beberapa pengguna adalah hal yang mengganggu, tetapi kami juga mencoba berkomitmen bahwa bagi sebagian besar pengguna kami, ini berarti mereka mendapatkan produk terbaik dengan jumlah bug sekecil mungkin.
Untuk memberi informasi yang baik pada pengguna OnlineStore ID, setiap pembaruan dapat terlihat pada nomor yang ada pada logo OnlineStore ID – baik itu pembaruan fitur, perbaikan bug atau penambahan fitur baru. Kami menggunakan metode "Semantic versioning" untuk hal ini.
Semantic versioning OnlineStore ID
SIngkat cerita, version number terdiri dari 3 variable X.Y.Z yang memberitahu kita yang mana MAJOR release.MINOR release.PATCH.
Mari ambil contoh Joomla! as an example:
Semantic versioning using the example of Joomla!
Joomla! 3.4.3
Semantic versioning defines a specific meaning for each digit/position of a number.
Position 1 stands for a

major release

: new features, structures, ideas and architecture. Backward compatibility is not ensured. Contains incompatible changes to the API, for example.
Position 2 stands for a

minor release

: contains new features and improvements, is downward compatible
Position 3 stands for a

patch release

: Contains bugfixes and security updates, is downward-compatible
You would recognize a patch or bugfix release by a version jump from 3.4.3 to 3.4.4, for example.
From the developer's point of view, semantic versioning helps you keep track of dependencies in larger projects, classify changes and communicate them clearly to your users.
Ini berarti, menurut pendapat kami, selalu aman untuk memperbarui dari 1.5.3 ke 1.5.3.1, hampir selalu aman ke 1.5.3 ke 1.5.4 dan Anda mungkin benar-benar ingin menguji apakah situs Anda kritis dan kami beralih dari 1,5 ke 1.6.